Sunset Beach at Lake Diefenbaker
Inquire About Sunset Beach Lakefront & Lakeside Cabin & RV Lots
Why Lake Diefenbaker?
Welcome to Lake Diefenbaker! With over 580 miles of shoreline, beaches, unlimited water sports and world class fishing, Lake Diefenbaker has all the qualities of a perfect lake getaway.
Sunset Beach is an ideal playground created by nature with gently sloping terrain, miles of natural sand beaches and deep, clear sheltered coulees to safely harbor kayaks, paddle boarders, fishing enthusiasts and water sport enthusiasts of all types.
Lake Diefenbaker is conveniently located only 113 km from Saskatoon, 205 km from Regina, 136 km from Moose Jaw and 198 km from Swift Current. It's a short drive to make a quick weekend getaway from busy everyday life.

The water isn't the only source of fun at Lake Diefenbaker too! Close to golf courses, restaurants, hiking trails, and museums there's something for everyone.
The Sunset Beach Advantage
• Exceptional Flexibility – No Building Time Requirements
• Spacious, Titled, Serviced Lakefront, Lakeview and Parkview Properties
• Properties Suitable for an RV, Cabin, Park Model or Lake Home
• 4 Season Recreation
• Seamless Beach Access with All Accessibilities Ramp
• Family Oriented
• No ATV Restrictions
• Pet Friendly
• Boat Launch
• Private Walking Trails
• Park and Playground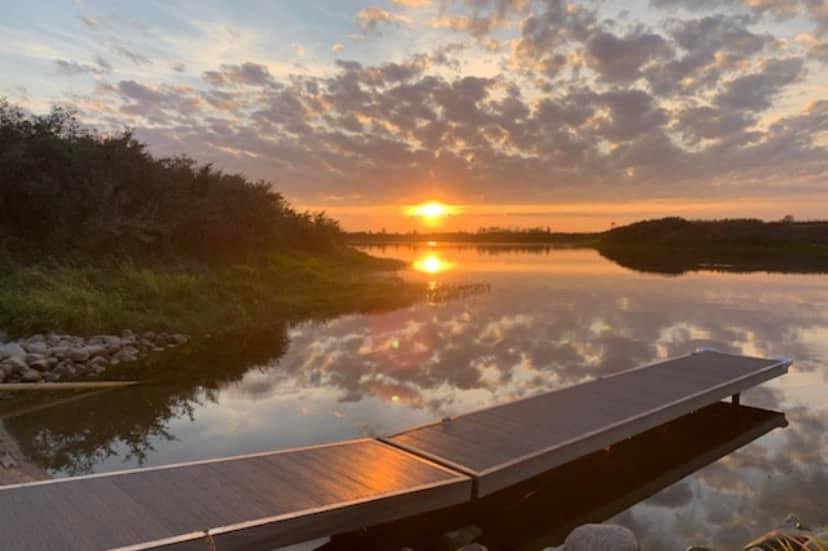 All Properties Zoned for Flexibility
Sunset Beach at Lake Diefenbaker features 161 Cabin and RV Lots on the East shore of Lake Diefenbaker. All lots are zoned Resort Residential with no time requirements to build and the flexibility to either enjoy an RV or Park Model Home or build a cabin or lake home.
Key Development Details
Spacious, Titled, Serviced RV, Cabin, Park Model and Lake Home Properties on beautiful Lake Diefenbaker.
Gorgeous new lakefront lots, large second row properties and turnkey parkside locations ready to enjoy, as close to the water as you can get on the entire lake.
Fabulous boat launch and innovative dock system to launch watercraft for Sunset owners with ample trailer and vehicle parking.
Beautiful Legacy Park, Playground, and Picnic area centrally located in the heart of the development.
One of a kind beach access ramp to enable people of all ages and abilites to readily access the pristine sands of Sunset Beach and crystal waters of Lake Diefenbaker.
Onsite water fill station exclusively for property owners with user friendly key fob system.
Flexible standards- enjoy immediately with an RV, build a cabin or lake home right away or plan for the future.
Ultimate flexibility- no time requirements to build.
All properties are titled, serviced, and available for immediate possession.

Inquire now to secure your property at Sunset Beach at Lake Diefenbaker.

Box 3370 Humboldt, SK S0K 2A0
Sunset Beach at Lake Diefenbaker is a project of Prairie's Edge Development Corporation.
@2023 Prairie's Edge Developments. All rights reserved.