Prairie Sky Trails Association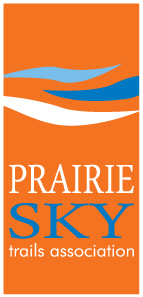 Prairie Sky Trails Association Inc. is a non-profit organization created to enhance and develop trails, public parks, and greenspaces in close association with Rural Municipalities and developing organizations. Prairie Sky Trails Association focuses on providing unique, recreational, and educational opportunities for persons of all ages and abilities in the establishment of several miles of trails to date that accompany public green spaces and recreational parks.
Namely, the non-profit organization has developed 2,000 meters of trails adjacent to Lucien Lake at Prairie's Edge Development. The trails offer recreational opportunity to a range of community members with a variety of uses including walking, running, bicycling, snowshoeing, skiing, and horseback riding.
The non-profit organization has also committed to enriching public green spaces in the past through the planting and nurturing of trees, flowers, and shrubs. In addition to trails and green spaces, Prairie Sky Trails Association has also contributed to the establishment of multiple playgrounds and play structures in public parks. The non-profit organization plans to stay true in their commitment of providing the pubic with refreshing trails, parks, and green spaces they can utilize while enjoying nature and the outdoors. Prairie Sky Trail Association has also provided educational and recreational programming for children in the community, funded by Saskatchewan Parks and Recreation Association. In 2021, they hosted a "Kids Afternoon in the Park" at Water's Edge Development at Lucien Lake, where children from the community were welcomed to engage in an educational lesson regarding bean growth and took home numerous toys and items.
Prairie Sky Trails Association at Sunset Beach
Prairie Sky Trails Association received funding from the Saskatchewan Parks and Recreation June is Recreation & Parks Month Connection Grant in collaboration with the R.M. of Loreburn No. 254 and the Village of Loreburn in 2022. The program allowed us to contribute to the Sunset Beach Community Association's first community event by purchasing and offering prizes, toys, and games for all children that attended and participated in the bike parade. The event was a great success, and our organization is excited about future opportunities to provide recreational and educational programming to the Sunset Beach community.
Also in 2022, Prairie Sky Trails Association was awarded funding to construct a new section of the Trans Canada Trail through the Trans Canada Trail's Capital Improvement Plan Grant at Sunset Beach. Construction began in July and was completed in late October. The trail connects to the existing Elbow Trail section of the Trans Canada Trail and runs north for a kilometer along Dog Leg Coulee. Signage, benches, and waste receptacles are situated along the trail at scenic lookout points. Our organization plans to host a grand opening event in collaboration with Trans Canada Trail in the Spring of 2023 to celebrate the trail construction.
Furthering trail development at Sunset Beach is one focus area of our organization as we head into 2023. Updates on projects, programs, dates, and events can be found on our social media accounts.