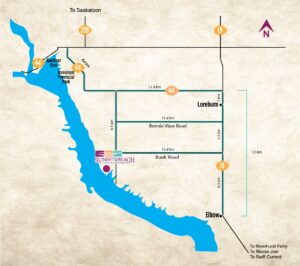 Sunset Beach is located on the east shore of Lake Diefenbaker, just over 1 hour south of Saskatoon between  Gardiner Dam/Danielson Provincial Park and the Village of Elbow.
Convenient highway access; development only 5 miles off Highway 44 or 8 miles off Highway 19.
Less than 12 miles to the Village of Elbow, providing easy access to an 18 hole champion golf course, a marina & boat launch, and conveniences including groceries, restaurants, service stations, and more.
The site has been a long-time favourite, with visitors travelling from near and far to enjoy the 105+ acre space outlined by Dog Leg Coulee and Cooper Bay.
The property is surrounded by two natural inlets for safe, sheltered boating, fishing, and swimming while connecting to 500 miles of shoreline with unlimited potential for fun and adventure.
Sunset Beach Distances from Major Centers
Distances to Sunset Beach
Saskatoon – 113KM
Regina – 205KM
Moose Jaw – 136KM
Swift Current – 198KM
Elbow – 15KM
Danielson Provincial Park – 13KM
Gardiner Dam Pavilion – 19KM
Outlook – 59KM
Riverhurst Ferry (East Shore) – 83KM
Google Map Links with Directions 
Directions from Saskatoon – Hwy 219 113 KM 
Directions from Saskatoon – Hwy 11 134 KM
Directions from Regina- Hwy 11 205 KM
Directions from Moose Jaw 136 KM
Directions from Swift Current 198 KM
Directions from Humboldt-  Hwy 5 and 219- 231 KM
Directions from Humboldt- Hwy 5 and 11- 240 KM
Directions from Sunset Beach to Elbow 15 KM
Directions from Sunset Beach to Danielson Provincial Park 13 KM
Directions from Sunset Beach to Gardiner Dam Pavilion 19 KM  
Directions from Sunset Beach to Outlook 80 KM- Highway 19
Directions from Sunset Beach to Riverhurst Ferry (East Shore)  83 KM